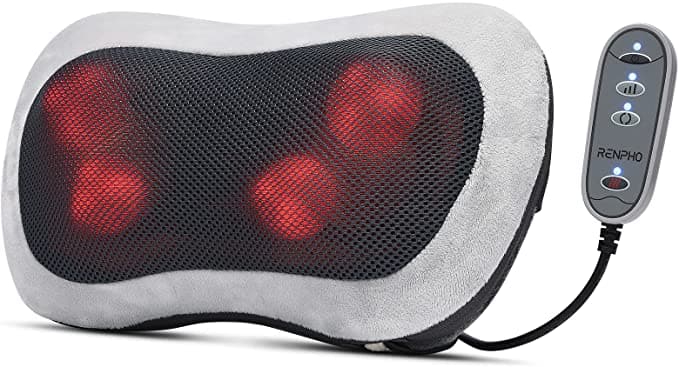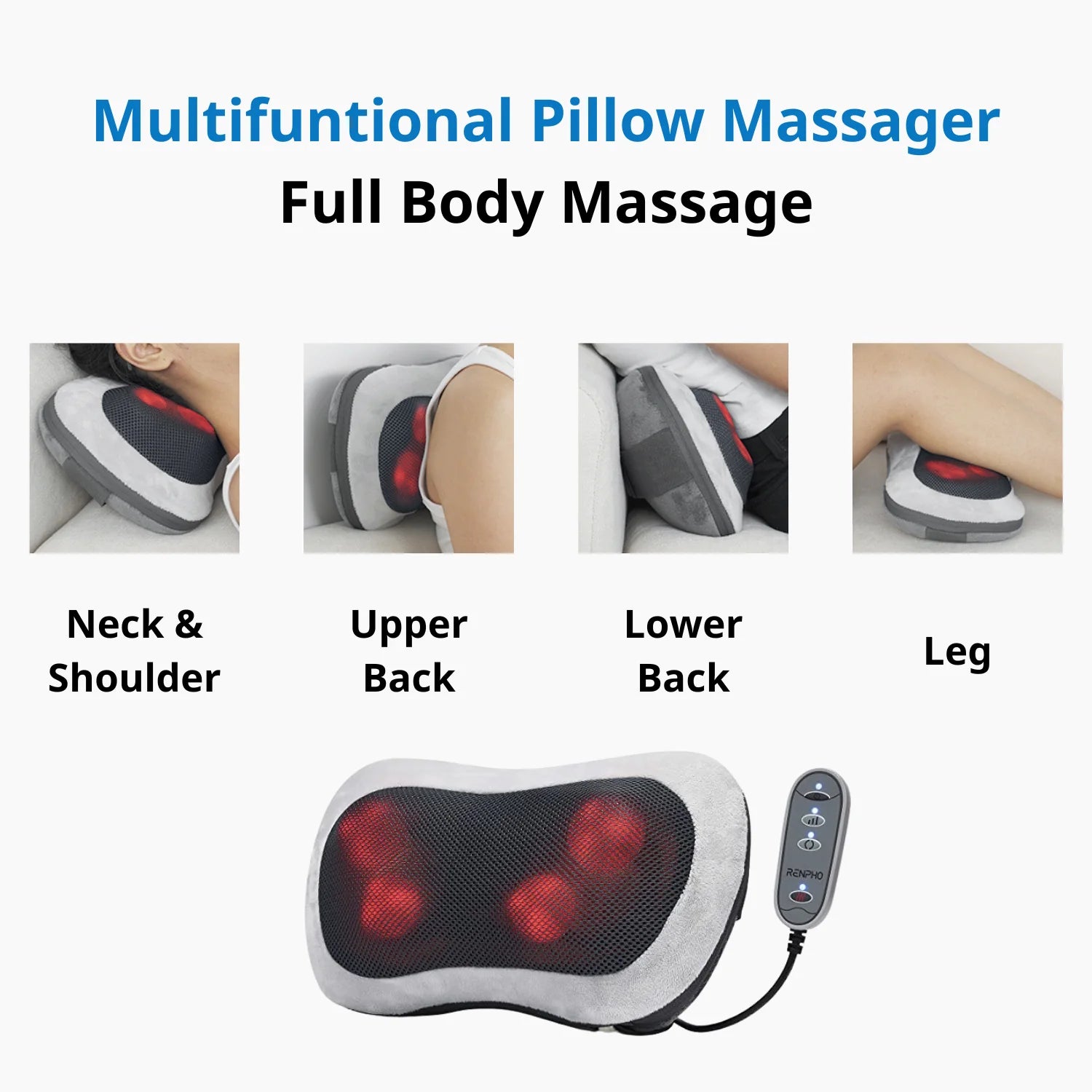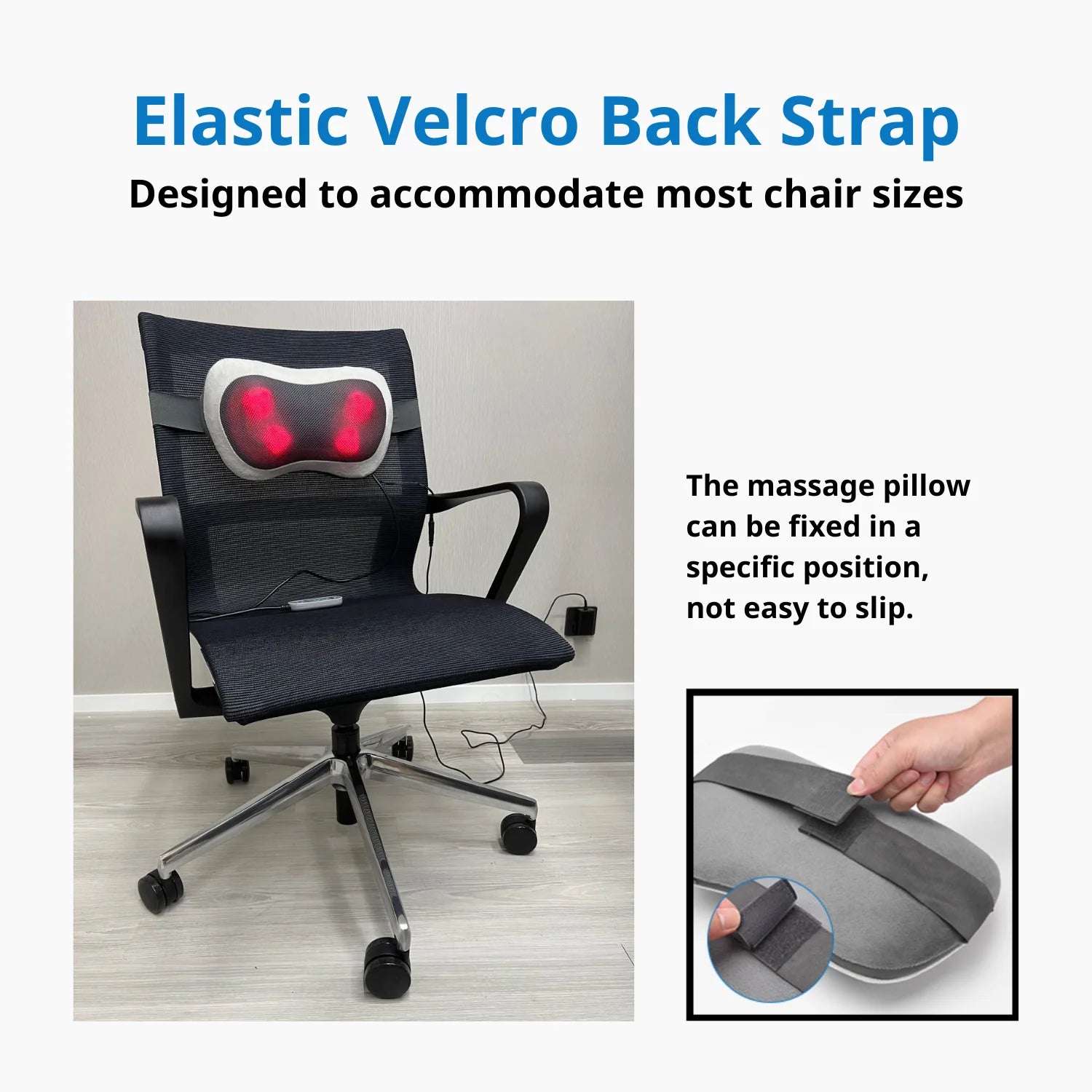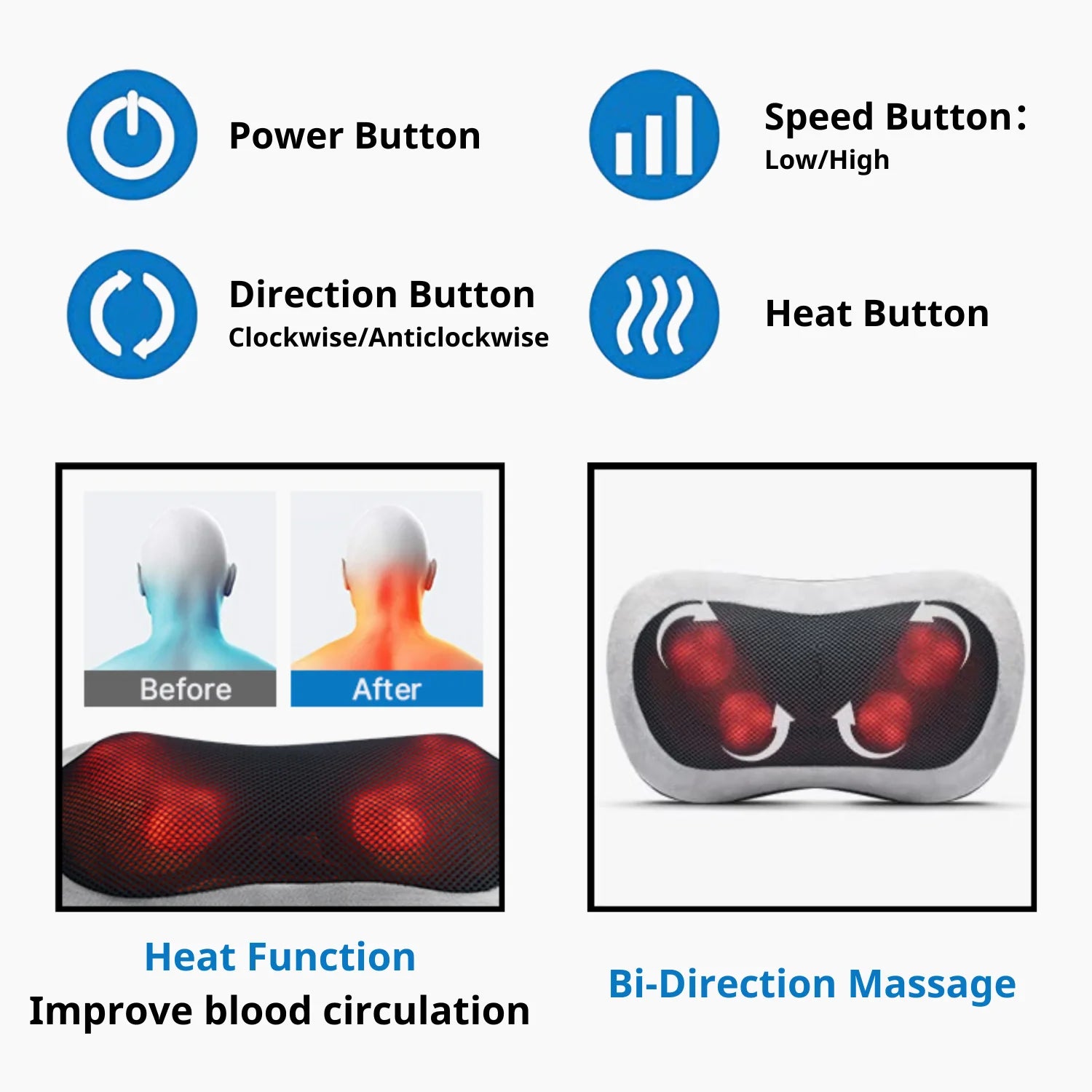 Pillow Massager 068
Official Website ONLY: 18 MONTHS WARRANTY

30-DAY MONEY-BACK GUARANTEE (**excluding AI Smart Bike)
Free Shipping & Fast Delivery
Enjoy free shipping on orders over $45 AUD

Enjoy Speedy Delivery on All Renpho Products
Amazon No.1 Health & Personal Care Brand

Official Sponsor of USA Triathlon
Product Description
Benefit
Feature
Specification
Relieve Your Pain with a Heated Massage Pillow
Struggling with a stiff neck? Too busy for the spa? Featuring 4 shiatsu kneading massage rotation nodes, RENPHO pillow massage will knead out the knots and kinks with a feeling like real hands. This massager with heat reduces pain for every area of the back, neck, foot, calves, and even difficult-to-reach shoulder blades.
With a heating feature and kneading massage nodes, this affordable massager provides the strength of a professional massage. It's ideal for people who sit or drive for long periods of time often and experience a lot of pain in their neck and shoulders. You do not need to make an appointment with a spa or professional masseuse. Enjoying a full body massage by the pillow is a great way to relax muscles. It enables itself a great gift for friends and family.
Warm tips
Feel uncomfortable
Reason:
01-May choose the highest intensity
02-May overuse
Solution:
01-There are two intensity to choose, please choose the lowest intensity
02-It is recommended to massage for 30 minutes at a time
Deep kneading shiatsu massage with heat: The Shiatsu Massage Pillow uses 4 specially designed, deep-kneading shiatsu massage nodes to help alleviate muscle pain and stiffness. This massager with heat effortlessly kneads your knots away to provide comfort and relief. The heating function can be turned on and off by the user if a cooler massage is preferred
Handheld remote control: Compared with other massage pillows with control buttons, this massage pillow with a remote control is easy to use and convenient. You don't need to turn around to control it. Thus it provides a more comfortable massage experience
Adjustable speed and direction: This kneading massage pillow offers two speed modes to choose from, which is very practical for the elder as they need gentler massage. Massage direction can also be adjusted by remote control according to your preferences
Adjustable velcro strap design: The adjustable elastic back Velcro on the back massager allows it to accommodate most chair size and be fastened on the chair easily, makes it perfectly use in home and office
Ideal gift for everyone: A great gift for your parents, friends or elders who may suffer from muscle, joint and body pain
Deep Kneading Shiatsu Massage
4 deep-kneading massage rotating nodes ease neck, shoulder, and back stiffness by imitating real handgrip kneading massage, to provide you an unforgettable whole body massage.
Heating Function Soothes Aching Muscles
The heating function produces gentle warmth that helps to relieve muscle pain, soothe fatigue. Alleviate aching neck pain, and tense waist, and fatigue after a long workday.
Adjustable Massaging Direction
Click the speed button to change the direction of rotation. Clockwise massage and anti-clockwise kneading rotation imitate human fingers to provide you an unforgettable full body massage.
15-Minute Timer
Auto shut-off after 15 minutes for safety.
Overheating Protection: Automatically shuts off if overheated, get rid of burning.
Breathable Mesh
Breathable mesh helps heat penetrate from the massager to your body, while the heat can effectively relax the muscles during massage.
Elastic and Velcro Back
The adjustable elastic back velcro on the back massager allows it to accommodate the sizes of most chairs and it could be fastened on the chair easily, which makes it perfectly usable in home and office.
Item weight: 900 Grams
Special feature: Heat
Product dimensions: 31.5L x 18.5W x 11.5H centimetres